Kamelia Planska
Institution: University of Library Studies and Information Technologies (ULSIT)
Country: Bulgaria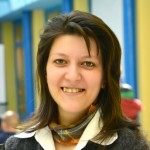 Kamelia Planska has been working as an Assistant of Library Management Department at the University of Library Studies and Information Technologies since 2015. She is a member of the University Youth Knowledge Academy (UNYKA) at the same University since 2013.
Assist. Planska has graduated in Bachelor's program in "Print communications" and Master's program in "Media Information and Advertising". She is a PhD-Candidate since 2016 at the same department in ULSIT. The topic of her Dissertation's Thesis is "Organization and Management of Intellectual Property on Photography Information".
She is Assistant of different disciplines as Information Resources, Intellectual Property, Intellectual Property in Internet, Social Networks and Internet.
Kamelia Planska is involved in organizing the National seminar dedicated to the World Intellectual Property Day (26 April) which is organized and coordinated by ULSIT and to the team of young scientists organizing the Annual Conference of UNYKA.
She is a Member of the Bulgarian Association of IP Teachers.
Her professional and scientific interests: are in the areas of Intellectual Property in a Photography, IP Training, Copyright Protection, Graphic Design.