Laia Arias
Institution: University of Barcelona
Country: Spain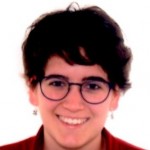 Laia Arias is a PhD student at the University of Barcelona (Faculty of Education).

She graduated in Psychology from the University of Barcelona in 2011 and has a Master's Degree in Educational Psychology. For the past three years she has been working in this field and is currently focusing on gender issues.

Laia Arias is developing a PhD programme about gender and education issues, specifically focused on the university sphere, and based on the formation and training from a perspective of gender to the future Primary school teachers that study in the faculties of Education.

So far Laia Arias has been involved in different projects or researches related to the areas of gender, education and social inequalities. She is also experienced at working as a team, attending international meetings and has worked in UK as well as in Germany. Additionally, Laia Arias has participated as a speaker in different kind of meetings in the last years to present her professional experiences in which she has been involved in.