Rana Challah
Institution: Saint-Joseph University Lebanon Université Lyon 2 France
Country: France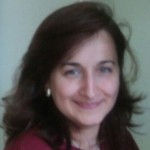 Rana CHALLAH is a PhD student at Saint-Joseph University in Lebanon and Université Lumière Lyon 2 in France. She is a cotutelle student: cotutelle students enroll in two universities and undertake their studies under the supervision of a professor from each institution. She is preparing her dissertation under the supervision of Professor Philippe Meirieu in France and Professor Ramzi Salamé in Lebanon.

She graduated in English Literature – from the Lebanese university in Beirut (Lebanon) in 1995. She obtained her master degree in English literature in 2001. She obtained her
Second master degree in Education in 2012.

Rana Challah teaches English as a second foreign language at Grand Lycée Franco-Libanais and at Saint-Joseph University, Beirut- Lebanon.

Rana Challah holds a doctoral mobility grant/scholarship from the AUF (Agence Universitaire de la Francophonie).

She participated in many conferences in Lebanon, Nantes, Montpellier, Geneva and published her articles in the conference proceedings.