Maria Reraki
Institution: University of Manchester
Country: United Kingdom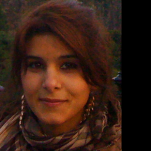 Maria Reraki is currently a doctoral student at the University of Manchester.

She obtained her first degree in English Language and Literature from the Aristotle University of Thessaloniki in 2007. In the academic year 2008-2009 she completed her Master's degree in Teaching English to Students of Other Languages (TESOL) at the Moray House School of Education, University of Edinburgh. During this period she also followed a course on dyslexia.

She is now at the final year of her doctorate studies. Her research is on Dyslexia and Learning English as a Foreign Language.

She has worked as an English Language teacher for three years in Greece in both the private and the public sector. In the UK she has worked at the Manchester College, supporting learners with moderate, severe and profound and complex learning difficulties.

She is currently involved in two research projects at the University of Manchester: the 'Coalition of Research Schools' and PATHS. The first one is about supporting school teachers in carrying out inquiry within and around their schools with a focus on disadvantage. The PATHS project is focusing on enhancing pupils' social competence and on facilitating the social processes in the classroom.

Her research interests are on areas that associate the areas of learning difficulties, dyslexia and English Language teaching/learning.