Emanuela Ominelli
Institution: MIUR - Ministry of Education, University and Scientific Research - Italy
Country: Italy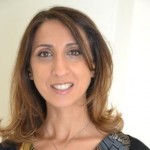 Emanuela Ominelli is employed at the Ministry of Education and teaches Italian and Latin literature at the Liceo Scientifico "G. B. Scorza" in Cosenza, Italy.

She graduated in Lettere Classiche at the University of Calabria in 1998.

Emanuela Ominelli has participated, through group research study on the topic of daily communication in the classroom, at the national training seminar "Teaching Communication" organized by the Ministry of Education in Verona.

So far Emanuela Ominelli has been involved as coordinator of the project, training tutor and facilitator of communication in more extracurricular projects of secondary level School.

She is also involved as tutor in European projects mostly funded by the Lifelong Learning Programme.

Emanuela Ominelli she was committed to the Dante Alighieri Society as an expert in the evaluation committee for the national certification of competence of the Italian language for foreigners.

She also wrote the foreword of a novel and oversaw the presentation of books in cultural events.