Begoña Lang
Institution: The University of the Basque Country
Country: Spain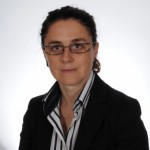 Begoña Lang is a teacher and a researcher of the University of the Basque Country.

She graduated in Economics and also has studied an executive MBA. She also holds three Master degrees: Master in Business Direction from the Innovation and Internationalization, Master in the Direction and Management of Educational Institutions and Master in Information Technology and Communication. Since then she has constantly been working in the field of Education quality.

Begoña Lang is an expert in management, quality and new technologies in Education. She is an EFQM (European Foundation of Quality in Management) Assessor.

So far, Begoña Lang has been the Headmaster of five "Institutes" in Spain and is involved as an Assessor in many Innovative projects. She has developed and coordinated partnerships with many bodies throughout Europe, including Universities, public authorities, training organizations, schools and research centers.

Begoña Lang is often invited as a speaker or expert and consultant at International Conferences to inform her European cooperation experiences and European projects, in which she is involved.

She is also responsible as an external expert in quality management and an external evaluator in European projects, mostly funded by the Lifelong Learning Programme.