Ingrid Shikova
Institution: Sofia University "St.Kliment Ohridski"
Address: 125,Tzarigradsko shaussee Bvd. bloc 2 fl.4
Postal Code: 1113
Country: Bulgaria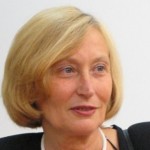 Ingrid Shikova is professor in EU Policies at Sofia University "St.Kliment Ohridski".
She graduated in International Economic Relations from the University of Economics in Sofia. She has a PhD degree. The academic carrier of prof. Ingrid Shikova is dedicated to European Studies. She is one of the founders of the European Studies Department at Sofia University. She has many publications in the field of European integration issues including textbooks for university and secondary school students. She has a broad teaching experience as well as specialisations at prestigious Universities in Europe. She is experienced in EU project management. Prof. Shikova is guest lecturer at the Diplomatic Institute to the Minister of Foreign Affairs and at the Bulgarian School of Politics.
In 2009 she was awarded a highest honorary sign with blue ribbon of Sofia University for her contribution to the development of European Studies in Bulgaria.