Federica Pesce
Institution: Melting Pro Laboratorio per la cultura
Country: Italy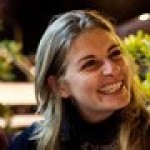 Federica Pesce designs and coordinates national and international cultural projects related to informal lifelong learning and to the development of territories through multimedia technologies.

Her pleasant challenge is to transform information into knowledge relying on digital storytelling techniques and social design practices.

Her passion to put together different but complementary people is translated into the creation and the handling of international partnership within the working environment. She is fundraising and cultural management consultant for many public and private entities. She is also member of the Rome Co-Design Jam group.

Education: PhD in Arts, Design and new Technologies at Sapienza, University of Rome. Advanced Master in Artificial Intelligence, option Cognitive Science at KUL Leuven, Belgium. Degree in Philosophy at Sapienza, University of Rome.