Sergey Kosaretski
Institution: Higher School of Economics
Country: Russian Federation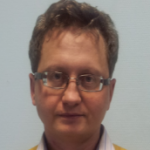 Sergey Kosaretski is the head of the Center for Social and Economic School Development

He is graduated in Pedagogics from the Tula State Pedagogical University in 1996.
He is PHD (Psychology, Institute of Pedagogical Innovations,1999).

His current research interests are Pedagogical Innovations, Non-formal Education, School governance, School Improvement.

Sergey Kosaretski has been involved as an expert in advisory boards and expert groups under the Russian Government on the school and further education.
He is the leader of several research projects funded by the Russian Government, funds and international organizations.

He is the teacher of the course «Practice analysis of Educational Policy» at the master's program in Higher School of Economics.
Sergey Kosaretski regularly takes part in international conferences (such as European Conference of Educational Research, International Congress of School effectiveness and School Improvement).