Kyle Parker
Institution: Information Technology, Ball State University
Address: 2000 W University Ave
Postal Code: 47306
Country: United States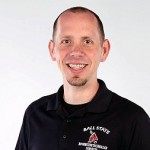 Kyle Parker is currently focused on the mobile app space, developing prototype and proof-of-concept apps aimed at providing students with cutting-edge apps, services and tools, reducing the hassle factor in obtaining access to core university information, and offering a rich and immersive experience.

As part of that objective, he and his team created The Traveler, an app for Android-based phones and tablets. As a Glass Explorer, Parker has recently expanded the project into the world of wearable technology with the inclusion of Google Glass.

With over 95,000 downloads in 190 countries world-wide, Traveler has enjoyed tremendous success in the both the academic world and with the general public. The app was featured on Google Play for several weeks in May 2013, included in the Google Play for Education initiative at Google I/O, showcased at the Sprint Open Solutions Conference with Samsung Mobile, and most recently, a promotional spot on the Samsung Portugal Facebook page.