Adrian Braescu
Institution: Ministry of National Education
Address: 28-30 Berthelot str.
Postal Code: 010168
Country: Romania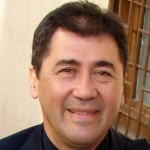 Adrian Braescu is Designer and Inspector of Visual Education, Primary, Secondary and High School Dpt., Ministry of National Education; Mentor of the Romanian Council for Curriculum and for Curricular Strategies; Mentor of the Method Education Program for Teachers.
He holds a PhD in Visual Arts at the University of Timisoara.

He is co-author and promoter of the curriculum for Art Education and Visual Education in Romania, new disciplines in the Romanian system.

Adrian Braescu is member of the European network REMCE – red de estructuras de movilidad para ciudades eficientes (mobility structures for the efficient city network: energy and art) – a network of professionals interested in implementing natural models in designing modern cities.