Paulo Dias
Institution: Faculty of Philosophy of the Catholic University of Portugal
Address: Faculdade de Filosofia Praça da Faculdade, 1
Postal Code: 4710-297
Country: Portugal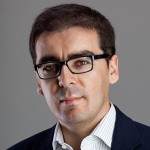 Paulo C. Dias, psychologist, with master degree in Educational Sciences and PhD in Health Psychology, is Auxiliar Professor at the Catholic University of Portugal.

During his career, worked in schools and higher education institutions, as professor in the field of Psychology and researcher in psychology and education domains. We can highlight the participation in some European projects as SCENE: ProfeSsional development for an effective PBL approach: a practical experience through ICT-enables lEarning solutions, with funding from Education, Audiovisual and Culture Executive Agency (EACEA); GENIUS: plaGiarism or crEativity: teachiNg Innovation versUs Stealing with funding from European Commission or European Network on Exchange Early Detection Drug-consumption with funding from European Commission, apart of other national funded projects.

His works have been published in national and international journals.