Mark O'Connor
Institution: Blended Learning Designer, School of Science and Health, University of Western Sydney
Address: Campbelltown Campus | Level 4, Building 24, Room 24.4.100 | Locked Bag 1797, Penrith, NSW
Postal Code: 2751
Country: Australia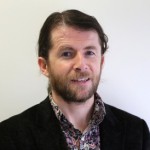 Mark O'Connor is a Blended Learning Designer in the School of Science and Health at the University of Western Sydney.

He graduated as a Mechanical Engineer (Materials & Design) in 1996 from the University of Limerick. He then received an MA in Music Technology in 1998 from the University of Limerick. He has been a member of the Irish Teaching Council since 2012. He is a multi-instrumentalist musician, recording engineer, actor and director.

His presentations at previous conferences include:
Tape Op Recording Magazine Conference – Tuscon, Arizona, USA, 2006, funded by the Irish Arts Council.
DICE (Development and Intercultural Education) Conference – Limerick, Ireland, 2010.
ISSTA (Irish Sound Science and Technology Association) Convocation – Cork, Ireland, 2012.

Following completion of his Music Technology Masters, Mark ran his own media production studio for over 10 years in Limerick, Ireland, recording over 1,000 musicians and developing a keen understanding of audio/video production processes. He then worked at the Learning Hub Limerick, creating the Digihub, a PC/Mac based Blended Learning Environment creating curriculum based content for primary and secondary students. At the Limerick Education Centre he tutored School Teachers in areas such as IT, Music Technology and Video Editing. He worked at the University tutoring across Music Technology, Education and Arts departments.

He took up his position with the School of Science and Health at UWS in mid 2013.
The Blended Learning team, comprising of 2 advisors and 5 designers, services over 400 Academic, teaching and technical staff delivering teaching to some 14,000 students across 4 campuses. His presentation will focus on the newly created MiHub, a Blended Learning Media Content Creative Space, outlining media production processes used, showcasing some of the content created by the team and some self-created content by academics, and discussing the challenges and breakthroughs made.