Najat Al Kalbani
Institution: Sultan Qaboos University
Country: Oman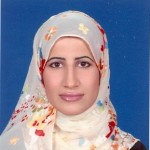 Najat Al Kalbani has a bachelor's degree in English Teaching Methods which she obtained in 1997 from Sultan Qaboos University, Muscat. In the same year, she was selected to join the teaching staff of the Language Centre of SQU where has been teaching since. Throughout her teaching career, Najat has held several managerial positions at the LC. This has allowed her a golden opportunity to develop a full rounded view of what goes on in the teaching scene both behind and on the forefront.

In 2006, Najat obtained an MA in TESOL Studies from the University of Queensland, Australia. Two of the most important courses that had a profound impact on Najat's outlook at her job both as an educator and administrator were Intercultural Communication and Politics of Education.

Najat was among the founding members of the national ELT conference that started in 2001 which, over the past 13 years, has evolved to become the largest and perhaps the most important ELT conference in the Sultanate and among the largest in the Arabian Gulf region. Najat served as the Chair of the Conference Organizing Committee in the third and fourth editions of the conference and once again on the 11th and 12th editions. Among the plenary speakers Najat has managed to get to speak at the conference were Charles Alderson, Adrian Holliday, Scott Thornubury, Jeremy Harmer and Rebecca Oxford. Najat is particularly interested in teacher empowerment, organizational communication and quality management in higher education.