Diana Bagiryan
Institution: Yerevan State University
Address: 9 Charents st., apt 27
Postal Code: 0025
Country: Armenia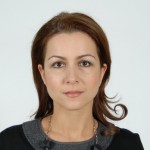 Diana Bagiryan is currently the lecturer of English at YSU.

She graduated from Yerevan State University, Faculty of Romance and Germanic Philology in 1998. After graduating she started her career in teaching English and since then has constantly been working in the field of Education.
Her areas of specialization comprise ESP teaching, TOEFL preparation, ITEP preparation and adult learning. Since 2011, she has been providing English training of YSU academic staff within the frameworks of Tempus program. She is currently also a coordinator of YSU testing center being in charge of organizing training and testing of the students.
Diana Bagiryan is an author of three university textbooks for undergraduate and graduate students and a number of methodological and research articles.
She has a particular interest in language teaching enhanced by the use of technology to provide a quality learning experience. Current areas of research cover new approaches to teaching foreign languages at university, ICT integration in the foreign language teaching, e- learning and contemporary problems of Pedagogy.