Maria Markova
Institution: University of National and World Economy
Country: Bulgaria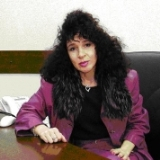 Professor Maria Markova is an academic lecturer and a scientific researcher in intellectual property at the University of national and world economy, Sofia, Bulgaria.
Prof. Markova has achieved master degree in Economics and Marketing in 1989 and in Law in 2008. In 1998 she became a doctor of Economy. Since 1997 to present she has been working at the University of national and world economy at responsible academic positions.

She is responsible for lectures on the following academic courses: "Intellectual property"; "Marketing of intellectual products"; "Industrial design and corporate culture", "Biotechnological achievements", "Actual problems of intellectual property". For a period 2002- 2010 she is an academic coordinator of WIPO university's initiative for Bulgaria and for a period 2010- 2012 she is a coordinator of EPO's initiative 'Dissemination of IP knowledge in universities' for Bulgaria. She is an active member of many professional organizations in intellectual property, higher education system and research in the field of intellectual property, law and marketing as follows: 'International association of teaching and research in intellectual property – Geneva, Switzerland', 'Association of intellectual property – Bulgaria' and 'Association in industrial design and advertising, Bulgaria.

Prof. Maria Markova has been working as a researcher in intellectual property, company design, biotechnology and advertising resulting in the following main books: "Protection of industrial design in the country and abroad", Patent Office of the Republic of Bulgaria and OHIM, 2008; Design management, Publ. Compex ."Stopanstvo", 2010; "Biotechnology, intellectual property, bioeconomy", Publ. complex. "Stopanstvo", 2010 and "Advertising as intellectual property", Publ. complex. "Stopanstvo", 2016 and the papers indexed in Thomson Reuters, Web of Science, Scopus, others: 'Management of company innovations as intellectual property according to the Bulgarian legislation system', Economic Alternatives, 2013; 'Intellectual Property Rights and Consumer Behavior' , Advances in Economics and Business, 2017; 'Intellectual property knowledge - a need in the contemporary higher education', Libreria Universitaria, 2017; 'Case study based educational model in 'Company design and visual culture' course, Libreria Universitaria, 2017; "Protection of industrial design as intellectual property rights in European Union" NTUT Journal of IP law and management, 2018, "Dualistic nature of the object of intellectual property 'industrial design",N. trudove UNWE, 2018; "Intellectual property rights for the breeder's achievements in Bulgaria", Bulgarian journal of agricultural science, 2018.
Area of Expertise: Higher education; intellectual property rights; IP research and management; patent, design and TM; know-how; license agreement in IP;