Julia Huisman
Institution: Stenden University of Applied Sciences
Country: The Netherlands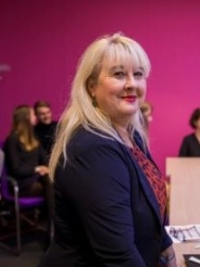 Julia Huisman is a Business and Intercultural Communication lecturer at NHLStenden University of Applied Sciences. Among other tasks Julia is Internationalisation at Home Coordinator, Exchange Coordinator and student associations Coordinator and has recently been invited to join the Scientific Committee of the Future of Education International Conference.

Julia graduated in English Philology from the University of Groningen RUG. She has been teaching and developing language teaching since 1998. Julia has extensive experience coordinating and teaching international courses for English degree programmes, having been a member of the Body of Examiners for Cambridge and International Baccalaureate organisations for many years. Currently pursuing a PhD titled: "Emotional Intelligence and Employability".

In her role as Internationalisation at Home and Exchange Coordinator, works on integration of international students in campus life, and the local community. Julia enhances international contacts with partner universities and reinforces the involvement of international projects within the curriculum. Julia expertise lies in international online collaborations on which she has published several papers. Her research interests lie in foreign language education and intercultural competences, innovation in teaching methods, online collaborations, student empowerment, and best practices in international projects. Since 2019 Member of the Scientific Committee of The Future of Education International Conference.
Area of Expertise: Foreign language education and intercultural competences, innovation in teaching methods, online collaborations, student empowerment, best practices in international projects;