Karine Chiknaverova
Institution: MGIMO University
Country: Russian Federation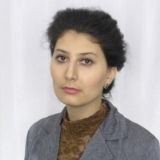 Karine Chiknaverova is a professor of MGIMO University (Moscow State Institute of International Relations (University) of the Ministry of Foreign Affairs Russian Federation), a higher education organization with a specific expertise in international relations and foreign languages.

Karine graduated in Foreign languages and literature from Udmurt State University (Russia) in 2000. Since then, for the last 18 years, she has constantly been working in the field of foreign language teaching at university.

From 2000 to 2006 she worked as a lecturer and then associate professor at the Department for Foreign Languages for specific Purposes of Udmurt State University. Then. from 2006 to 2007 Karine worked as an associate professor at the English Language Department of Russian State University for the Humanities and from 2007 to the present date as an associate professor at the English Language Department #6 of MGIMO University, then as head of department and professor at The English Language Department of MGIMO-Odintsovo. During this time she has also worked as a translator of documentaries for Ostankino TV channel (The Inis Studio), a manager of foreign language training of postgraduate students majoring in jurisprudence, management and civil service, as well as a coordinator of Language programs in the framework of Further Professional Training (for civil servants, school children and other professionals).

Karine is an expert in the theory and practice of foreign language teaching focusing in particular on the areas of English for specific purposes, legal English and legal translation. For over fifteen years she has been doing research and teaching English at university, acting as as a discussant (during the thesis presentation), scientific advisor, taking part in state-supported projects in several countries. K. Chiknaverova has developed and authored the English Language for Specific Purposes syllabi for different levels of higher education. She has reported at more than 40 international scientific conferences, workshops and round tables on language learning and teaching, psycholinguistics, pedagogy and education, reviewing scientific articles, coursebooks, dissertations. She is currently a QS world university rankings reviewer, a reviewer for Elsevier Journal «Linguistics and education», an editor for "US-China Foreign Language and Sino-US English Teaching" (David Publishing, USA), "Traduction & Langues" (The University of Oran, Algeria), "The issues of Germanic, Russian and Romance studies" (The Ural State Pedagogical University, Russia), a member of the dissertation board (on the theory and practice of teaching foreign languages) in Dobrolyubov State Linguistic University (Russia), National Asociation of Teachers of English (an IATEFL affiliate), National Society of Applied Linguistics (an International Association of Applied Linguistics affiliate).

Karine G. Chiknaverova defended her doctorate degree thesis on developing foreign language competences throgh fostering students` autonomy. Karine has authored more than 60 scientific articles, books and textbooks on foreign language teaching.
Area of Expertise: Theory and methods of teaching foreign languages at university; English for specific purposes; legal translation; learners` autonomy and independence; learners` language; error analysis;