Mark Verbeke
Institution: Arteveldehogeschool - Artevelde University College
Country: Belgium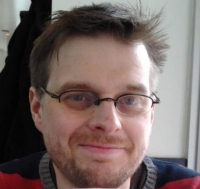 Mark Verbeke is the pedagogical coordinator of the center for adult education 'cvo Kisp',situated in the eastern part of Flanders (Belgium). Cvo Kisp offers over 250 courses, employs 300 teachers and reaches more than 12.000 adult learners.

He graduated in Pedagogical Sciences at the University of Ghent (UGent) in 2000 and obtained a post graduate degree in schoolmanagement at the Vrije Universiteit Brussel (VUB) in 2011. Mark started his career in the field of education and worked as a teacher, teacher trainer, coordinator, policymaker and projectmanager in both secondary and adult education.

Mark is responsible for the pedagogical-didactical policy in cvo Kisp which involves the evaluation policy, ICT-policy, the introduction and implementation of didactical and pedagogical innovations, professionalization and internationalisation of teachers, and training-on-demand for different organisations.
For example, in recent years he introduced electronic learning environments, tablets, distance learning, in-service training and video coaching in cvo Kisp.

During his career, Mark specialised in in-service training (teacher training) and in the use of ICT in education. He participated in and managed several projects involving ICT, educational innovations and in-service training.

Mark is often invited as a speaker or trainer in schools and conferences in Belgium and abroad.
Area of Expertise: Adult education, in-service teacher training, use of ICT in education