Patrick Murphy
Institution: Nord University
Country: Norway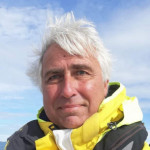 Patrick has a degree in English and studies in pedagogy from the University of Oslo, currently senior lecturer, English, at Nord University, Norway. 28 years teaching English in primarily teacher training, and has experience in teaching literature, language and social studies; though has the past years specialised in English subject didactics and methodology - both in teacher training programs for future year 1-7 and 5-10 teachers, and in-service training.
Special fields of interest and ongoing research are the extended classroom, in-depth learning, and educating teachers through exemplary practical approaches and teacher-student communication.

When not working, Patrick and his wife enjoy sailing the beautiful coasts of Northern Norway, hiking in the mountains, and following the pursuits of their son who is completing his master's degree in theatre directing at University of East London.