Fatmagul Gurbuz
Institution: Hacettepe University
Country: Turkey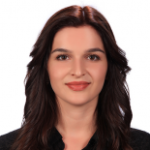 Fatmagul Gurbuz works as a full-time research assistant at Hacettepe University.

Gurbuz completed her undergraduate education at Ankara University Psychological Counseling and Guidance Department between 2014-2018. In the summer of 2017, she was in London for three months with Erasmus Internship Mobility and in addition to her internship, she received language training at BSGS College. She started her graduate education at Ankara University Psychological Counseling and Guidance Department in 2018 and completed it in 2021. She worked as a psychological counselor in a private psychological counseling center and Ankara University Career Center during her graduate studies. Since 2019, she has been working as a full-time research assistant at the state university for 4 years. During this time, she assisted the lectures, took part in different projects, presented papers and published articles. She received her Cognitive Behavioral Therapy Training from the Cognitive Behavioral Psychotherapy Association, an internationally accredited institution.

Gurbuz worked at Trakya University, located in western Turkey, from 2019 to 2021. Here she was the academic advisor of the students community and the layout editor of the faculty journal to improve herself in writing and publishing. To study her PhD at Hacettepe University, her staff moved to Hacettepe University.

Although Gurbuz wrote her master's thesis on close relationships, she is improving herself on behavioral addictions. She has articles on topics such as smartphone addiction and fear of missing out, and she continues to work on these issues.

Gurbuz has been receiving PhD scholarship given to successful doctoral students by the Scientific and Technical Research Council of Turkey (TUBITAK) since January 2022 (National Scholarship Program for PhD Students -2211).

Gurbuz, with her Social Responsibility Project named "Happy Garden, Happy Child", of which she was the academic advisor in 2022, was supported by TOVAK Turkey Community Services Foundation Special Award.

Gurbuz aimed to improve herself in the field of statistics as well as her field knowledge, and in this context, she participated in various trainings and gained the competence to use SPSS, LISREL, AMOS and MAXQDA programs.

Gurbuz participated in the six-week Training Program for Mental Health and Psychosocial Support in Disasters given by the Non-Governmental Organization called World Human Relief. After the earthquake disaster that took place in Kahramanmaraş on 6 February in Turkey, she was in Hatay for eight days to provide psychosocial support and held individual interviews with adults and children based on play.

Areas of expertise: Psychological counseling and guidance, marital satisfaction, attachment theory, cognitive behavioral therapy, model testing.