Izabel Ramadan
Institution: Oranim College of Education
Country: Israel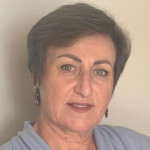 Izabel Ramadan is a lecturer at the Oranim Academic College of Education, Israel, at the Faculty of Education and the Inclusive Education M.Ed. program. For 30 years, her work has focused on advancing social and educational inclusion in schools within Arab Palestinian society in Israel and improving the welfare and sense of self-efficacy of educational staff who work with excluded students.
Izabel links her academic research and her intensive involvement in education by supporting local intervention programs to promote social inclusion and by training educational staff to identify and address inclusion and exclusion. These programs are based on the theory-based interrelation between educational, psychological, social, and cultural approaches, combined with broad action research in these fields.
Izabel has developed a working model which has been socially and culturally adapted to work with excluded and at-risk students in Arab Palestinian society within Israel and has published two guidebooks for school intervention counselors. The first book, "Crossing the Emotional Barrier" (2018), addresses the importance of the emotional aspect when working with excluded and at-risk students and the unique challenges facing Arab educators. The second book, "Introspective Authority – a Bridge Inwards" (2021), provides a response to the issue of educational staff's authority when coping with risk behaviors and violence among excluded students.
Both books (published by Joint-ASHALIM, in conjunction with the Ministry of Education) are based on action research and actual cases and provide intervention techniques and skills based largely on understanding the lived experience of excluded students, empathy, and creating a beneficent and nurturing relationship, with emphasis on the importance of emotional and social support among educators.
Izabel lectures on the identity role of the educator, empathy, and exclusion and inclusion in education. She is also a counselor and mentor of municipal staff, school principals, educational counselors and therapeutic staff in schools.

Areas of expertise: at-risk and excluded youth, the identity of Arab educators, multiculturalism, empathetic education, the nurturing approach to education.