Walter Zeller
Institution: astyle, linguistic comptence
Address: Servitengasse 8/22
Postal Code: 1090
Country: Austria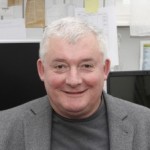 Walter Zeller studied English and History at Vienna University where he graduated in 1979. He then worked as an English teacher at Höhere Bundes- Lehr- und Versuchsanstalt für chemische Industrie in Vienna, Austria. This school is specialised on the education and training of chemists. He has been teaching there every since, for the last ten years only half-time.
Throughout his career as a teacher Walter Zeller has continuously developed material for teaching English to young chemists and has designed (online) material to teach the vocabulary of chemical processes such as analytical methods. As soon as Austria joined the EU, he started with the organisation of mobility and pilot projects, among them "Teaching Chemistry in the EU", "English for Specific Purposes: Chemistry" (www.esp-c.org), !English for Specific Purposes: Therapy" (www.esp-t.eu) or "Testing English for Specific Purposes in Science" (www.tespis.eu).
Whenever his time allowed it, he wrote articles for various Austrian, German and Swiss newspapers. These mainly constituted travel reports and culinary descriptions. For some time he also developed crosswords puzzles for the monthly "Wiener Journal".