Meruyert Ibrayeva
Institution: Nazarbayev University
Address: 53, Kabanbay batyr Ave.
Postal Code: 010000
Country: Kazakhstan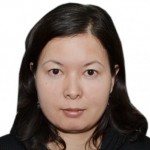 Meruyert Ibrayeva is an assistant professor in Kazakh Language, Literature and Culture Department at Nazarbayev University, Astana, Kazakhstan. She trained in mastering a second language: theory and practice; comparative linguistics in the context of modernity; management in the university: innovations and quality; teaching Kazakh language: innovation and experience.

Her teaching areas are Basic Kazakh, Intermediate Kazakh, and Upper-intermediate Kazakh. Teaching Kazakh as a second language is both challenging and rewarding. She tries to apply innovative approaches to curriculum planning, student advising and expands her knowledge in the field of second language acquisition through collaboration with colleagues.

The fields of interest are second language acquisition, methodology, and comparative linguistics. She frequently participates in international conferences, seminars, round-tables, discussions. She was teaching Intermediate Kazakh for American students in Central Eurasian Studies Summer Institute for two months in Wisconsin-Madison in 2013. She was on the jury panel on the Republic Olympiad in Kazakh, English and Russian languages in Pavlodar, Kazakhstan 2014. The purpose of the Olympiad was to appraise and support skillful young people in Kazakh, English and Russian, to reinforce patriotism to the country and to honor the culture and the language. This experience assists her to supervise academic papers and projects in the field of Kazakh language acquisition.

Her recent presentations were on the following topics: Proverbs equivalence and its expressiveness in different-type languages. International Conference on Exploring Leadership and Learning Theories in Asia, November 17 - 19, 2014, University Sains Malaysia, Penang MALAYSIA. Paremia as an expression of national identity. Joint Regional Conference on Central Eurasian Studies Society and Association for Slavic, East European, & Eurasian Studies, 22 – 24 May 2014, Nazarbayev University, Astana, Kazakhstan. Peculiarities of teaching the Kazakh language for heritage and non-heritage learners. The 17th National Council of Less Commonly Taught Languages International Conference on Collaboration and Internationalization: Enhancing and Sustaining Quality Outcomes for LCTLs, 24 – 27 April 2014, Chicago, USA.

Currently she is participating in multilingual project for Kazakh migrant family literacy training and their kids under 2 – 9 years old, designed by Dr. Nettie Boivin. The project highlights on social literacy practices, attitudes and language use (Kazakh, Russian and English).