April Xuehong Zhang
Institution: MSL Master
Address: 4/F, Hong Kong Trade Centre, 161 Des Voeux Rd Central
Country: Hong Kong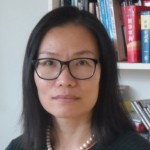 April Xuehong Zhang is the founder of MSL Master (Mandarin as a Second Language Master), an education and publishing center which provides Mandarin courses, Chinese textbooks and teacher's training. As a long time teacher, April specializes in teaching Mandarin to non-Chinese speakers, and has written twenty Mandarin textbooks in this area.

April has been teaching since 2000. She started off as an English as a second language teacher, and later taught both English and Mandarin. Since she founded MSL in 2003, her focus has been on teaching Mandarin to non-Chinese speakers. Her experience as a bilingual teacher has given her insight on the process of learning and how cultural differences affect learning outcomes. Based on the unique characteristics of Chinese, she developed an effective teaching method and a re-enforcing Chinese curriculum, where functionality, structure, tailored exercises and cultural interests are fully reflected to help the students achieve the best learning outcome. Moreover, her education background has given her textbooks breadth as well as depth.

In 1994, April graduated in Mechanical Engineering from Xiamen University. In 2000, she earned her TESOL certificate from TEFL International. In 2011, she obtained her Master's degree in Cultural and Literary Studies from The University of Hong Kong.

Apart from teaching, April also has a wide interest in social sciences and arts. Occasionally, she writes non-teaching related articles for newspapers. Her published articles include:
• "Phoney Relations", South China Morning Post, Dec 6, 2012
• "HK Identity Caught Between Political Reality and Insecurity", South China Morning Post, Oct 17, 2012
• "Should Hong Kong Increase its Dependence on Nuclear Power as its Main Power Supply?", English Street, Apr 4, 2011
• "Is Hong Kong Ready for Universal Suffrage?", English Street, Feb 21, 2011


Areas of expertise: higher education, adult education, teacher's training, language learning, languages for specific purposes, literary and cultural education.