Anne Siltala
Institution: Oulu University of Applied Sciences
Address: Kämppäkuja 10 H 15
Postal Code: 90420
Country: Finland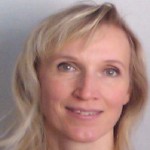 Anne Siltala
Oulu University of Applied Sciences
Oulu, Finland


Anne Siltala is a senior lecturer of English and Swedish in the degree programmes of business economics and business information systems at Oulu University of Applied Sciences.

She graduated from Oulu University as an MA in English and Swedish with the subject teacher's qualification in 1996. After graduation she worked as a business English teacher in different companies for five years.

Since 2008 the blended learning method has been a keen part of her teaching along with virtual learning environments and web conferencing techniques. She mentors her language teacher colleagues in the use of synchronous online tools. This autumn, 2015, she graduated as a Bachelor of Science in Economics and Business Administration majoring in computer science at Vaasa University.