Ingrid Singer
Institution: HU University of Applied Sciences Utrecht
Address: Heidelberglaan 7
Postal Code: 3584CS
Country: The Netherlands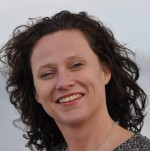 Ingrid Singer is a junior researcher at the Research Group Speech and Language Therapy of the HU University of Applied Sciences in Utrecht, the Netherlands. The mission of the Speech and Language Therapy research group is to optimize self-reliance and self-management among those living with communication disabilities. It does this by innovating new strategies and techniques in prevention, cure and care. The research group develops knowledge and tools for multidisciplinary care for patients with a communication disorder. The perspective of the individual patient is decisive in this. The aim of the research is to optimize the social participation and communication skills of the patient.

Ingrid has a degree in Communication Sciences, Psychology and Speech and Language Therapy. Her research focuses on evidence based interventions for children with language disorders, outcome measurement and instrument development. Besides her research activities Ingrid is lecturer on methodology in the bachelor program Speech and Language therapy in Utrecht and supervisor of theses in the bachelor program and the master program Clinical Language, Speech and Hearing Sciences in Utrecht.

Areas of expertise: language disorders in children, evidence based practice in speech language therapy, games for language learning, patient reported outcomes.