Giedrė Balcytytė-Kurtinienė
Institution: Vilnius University
Address: A. Smetonos 3-20
Postal Code: 01115
Country: Lithuania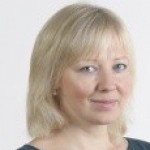 Giedrė Balčytytė-Kurtinienė is an associate professor at the Department of English Philology at Vilnius University, Lithuania.

Giedrė Balčytytė-Kurtinienė obtained a BA degree in the Humanities (1999) and MA degree in Philology (2001) as well as was qualified as an English teacher from the Pedagogical University of Vilnius. In 2008 she obtained her PhD in Social Sciences (Educology, English Language Didactics) on the integration of music into ELT.

Currently Giedrė teaches English Phonetics and Phonology to the students of English Philology as well as a course on Alternative English Teaching Methods at the Faculty of Philology, Vilnius University. She supervises the pedagogical internship of students and gives an instructional course on it.

She is a member of LAKMA (Lithuanian Association of Teachers of English as a Foreign Language), LITAKA (Lithuanian Applied Linguistics Association) and IPA (International Phonetic Association).

Among her other articles and publications she published a scientific monograph on the use of music in primary ELT "Muzikos poveikis mokant anglų kalbos pradiniame etape" in 2011 and a course book "A Course in English Phonetics for EFL University Students" in 2014.

Areas of expertise: English Phonetics and Phonology, English Language Didactics, Alternative Methods in ELT, Music in ELT.