Man Ki Theodora Lee
Institution: University of York
Address: Flat 42, Twenty Twenty House, Skinner Lane
Postal Code: LS7 1BB
Country: United Kingdom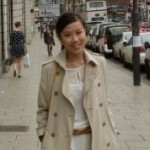 Man Ki Theodora Lee graduated in Linguistics and Language Technology from the City University of Hong Kong in 2008. She then did both her PhD in Linguistics and MA in Psycholinguistics at the University of York in the United Kingdom. She has constantly been working in the fields of Second Language Research and Syntax and has contributed to the little studied colloquial terms in Cantonese.

Since Theodora came to the United Kingdom, she has been involved in academic teaching and research in the field of Second Language Acquisition. Her unpublished PhD thesis, titled 'Negative wh-quantifiers in Cantonese: a syntactic proposal and an investigation of adult English-Cantonese interlanguage' covers both Syntax and Second Language Acquisition. Her research focuses on Cantonese as a second language and she is pursuing pedagogy research in applied linguistics. In addition, she has first hand experience in teaching Cantonese as a second language, which prepares her for future investigation on L2 Cantonese and effective teaching methods.

Her publications cover aspects related to problems in acquiring colloquial terms in Cantonese by English speakers at Syntax-Semantics interface and the dual interpretation of the proposed Cantonese negative wh-quantifiers in an overt movement phenomenon.

Areas of expertise: Second Language Acquisition, L2 Cantonese, Cantonese Grammar, L2 Syntax, Syntax, Syntax-Semantics Interface, Teaching Cantonese/Chinese as a second language.