Nacereddine Benabdallah
Institution: Mohamed Cherif Messaadia Universtiy
Address: Technicum Djaber Ibn Hayene
Postal Code: 41000
Country: Algeria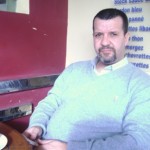 Nacereddine Benabdallah is an assistant Professor in the Department of
Foreign Languages Mohamed Cherif Messaadia University Souk-Ahras, Algeria.
He holds an MA in Applied Linguistics and is currently completing
a Doctorate.
His research interests are technology and language learning/teaching,
translation, foreign language oral skills.

Nacereddine graduated in Teaching English as a foregn languages from the University of Annaba, Algeria in 1987. He has been teaching English in a high school in souk-Ahras, Algeria for 20 years. In 2008, he moved to the university where he started teaching linguistics, sociolinguistics and translation.

Nacereddine is highly interested in implementing new technologies in teaching English as a foreign language. He conducted several research studies on CALL and the utilization of digital dedicated language laboratories.