Sarah Bordes
Institution: ISIT
Address: 21 rue d'Assas
Country: France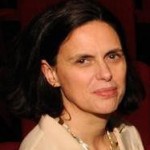 Sarah Bordes is the Director for Conference Interpreting and International Development of ISIT, an international Higher Education institution with specific expertise in intercultural management and communication.

Sarah first graduated in Translation and then in Conference Interpreting from ISIT. She has worked ever since as a conference interpreter for the European Union, International Organizations such as the OECD, French ministries and in the private sector.

She began teaching simultaneous interpretation in 2002. She joined ISIT in 2005 as Director for Conference Interpreting and has been running ISIT's Conference Interpreting Graduate Course since then.

Sarah is an expert in Conference Interpreting and Instructional Engineering. She has been accredited as an expert by the Institut Français (IF) and the Agence Française pour la Francophonie (AUF). She has been invited by universities across the world (Ghana, Lebanon…) as well as international organizations (the European Parliament, European Commission, International Criminal Court and Special Tribunal for Lebanon) to provide her expertise in Interpretation training.

Sarah has coordinated and participated in numerous European projects (Orcit, ImPLI, Connecting Conference Interpreting Trainers…) and represents ISIT in the European Masters In Conference Interpreting (EMCI) consortium.

Since September 2015, Sarah has also been in charge of ISIT's International Development.

Sarah is author of : La Pédagogie de l'interprétation à l'ISIT, In Le bulletin du CRATIL n° 12, May 2014 available at http://www.lebulletinducratil.fr/index.php/fr/la-pedagogie-de-l-interpretation-a-l-isit; Dans quelle mesure la motivation et la dimension psychoaffective jouent-elles un rôle déterminant dans l'apprentissage de l'interprétation de conférence ?, In D'Amelio La recherche en interprétation : fondements scientifiques et illustrations méthodologiques. Mons : Centre International de Phonétique Appliquée de Mons, 2013. Série : Traductologie. p. 71-86; Le rôle des langues pivots en interprétation. Le cas de l'Europe. Une approche historique et géopolitique. In La Tribune Internationale des Langues Vivantes, n° 51, November 2011. Paris : Editions Anagrammes, 2011 ; Interpréter dans des contextes difficiles. Le cas de l'Afrique du Sud. In Actes du forum de la CIUTI, Genève, janvier 2010 ; Le Rôle de la formation. Les enjeux de la qualification. In Les pratiques de l'interprétation et l'oralité dans la communication interculturelle (actes du colloque international, ISIT, 20-21 November 2009). Lausanne : L'Age d'Homme, 2010. p. 57-65 ; De l'interprétation : de la recherche à la formation. In Le bulletin du CRATIL, n° 4, November 2009. p. 25-2;

Areas of expertise: adult education, conference interpreting, curriculum design, higher education, Instructional engineering, project management, vocational training, transnational cooperation.