Shada Shahin
Institution: Bethlehem University
Address: Bethlehem University- Freire Str.
Country: Palestinian Territory, Occupied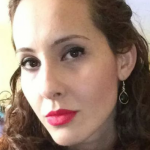 Shada Shahin is an instructor in the Department of English at Bethlehem University in Palestine. She obtained an M.A. in English Studies, criticism and theory from the University of Exeter and a B.A. in English Language and Literature with a minor in Translation from Bethlehem University. Shada teaches literary criticism, literature and oral communication skills courses at Bethlehem University. Her field of research includes theories on the diaspora, Palestinian autobiography, space theory, and the segregation wall. Shada is currently working on a research paper on the Palestinian Diaspora in which she questions the nature of the displacement and the possibility of situating it within a more comprehensive framework of diaspora studies.. Her interest in examining the effects of space on the development of identity and agency has led her to collaborate with her colleague Raphaela Fischer-Mourra on the iPad project at Bethlehem University.