Lúcia Tardão
Institution: Escola eb 2/3 Alberto Iria
Address: R. Dr. Emilio Campos Corôa, Lote C 1º Dto.
Postal Code: 8005-218
Country: Portugal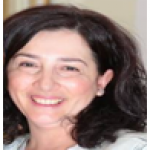 Lúcia Tardão – Profile
Agrupamento de Escolas Dr. Alberto Iria

Lúcia Tardão, BA in Portuguese and English Teaching by the University of Évora, she is a teacher since 1994. She teaches both English and Portuguese to students of the 3rd cycle of basic education (ages 12/16) and CEF (Educational and Vocational training Courses for students with learning disabilities or behavior issues). She coordinated the Educational and Vocational Training courses (which are semi-professional courses that prepare young people, aged 15 or older, for a job), the Alternative Curricula Courses (students, aged 14 or younger, with learning problems are integrated in alternative curricula classes) and ORE (Other Educational Responses – children with disabilities or special educational needs are taught practical every day activities). She was the school's Vice- President (1998/1999 and 2002-2005) and for the last few years she has coordinated part of the Language Department at her school.
She is a member of the School General Council and was a member of the School Pedagogical Council.
She has worked with the University of the Algarve and with "Escola Superior de Educação do Algarve" as an ESL teacher trainer.
She participated in an Etwinning Project, developed by teacher Marco Aurélio, "Diversity unites us" and in the Comenius project ETALAGE (ETALAGE - 502162-2009-LLP-NL- COMENIUS-CMP) as a partner of the University of Algarve. In 2013/14 she was the coordinator of the Cambridge PET Exam at Dr. Alberto Iria's School and she was a KEY for Schools Examiner and General Marker. In 2014/2015 she was a PET for Schools Examiner and General Marker.
She currently participates in the Pan-European Task Activities for Language Learning (PETALL), 530863-LLP-2012-NL-KA2-KA2MP with the Education, Audiovisual and Culture Executive Agency as a part of the University of Algarve tandem.