Magdalena Balica
Institution: Institute for Educational Sciences
Country: Romania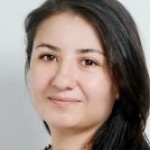 Magdalena Balica is deputy director of the Institute of Educational Sciences in Bucharest, Romania and senior researcher in the educational policy department. Magdalena has over 20 years of experience in national and international research projects supported by various organizations and expert for several organization such as Ministry of Education in Romania, UNICEF, World Bank, European Commission.

She graduated in Sciences of Education from the University in Bucharest in 1996. She has a Master in Education as well as a PhD. For the past 20 years she continuously worked in the same organization attempting to find solutions to improve education at various levels. She has been involved in many training programs, most of them with an innovative design. She is among the Romanian pioneers in online and blended learning courses for teachers. Since 2003 she has been involved in projects dedicated to students and teachers from disadvantaged communities.

Magdalena is also expert in the "European Network of experts in education and training" of the European Commission, contributing to several policy documents and analyses at the EU level.

Magdalena is teaching educational sciences at the University of Bucharest and has extensive experience in producing, testing and interpreting both quantitative and qualitative research tools and also in drafting policy papers on different educational issues such as early school leaving, lifelong learning, education for Roma students and others.

In the recent years a special interest of her research was e-learning pedagogies and learning facilitation in the framework of community of practice and social learning perspective. Starting with 2006, Magdalena Balica founded the Online Learning Centre of the Institute of Educational Sciences, massively visited now by teachers and students interested to take online courses or attending online communities on various educational areas. More recently, she got involved in curriculum development and implementation.

Areas of expertise: educational policies, evaluation, education for disadvantaged categories, teacher training, e-learning, communities of practice in education.