Antonio Quatraro
Institution: UICI Firenze
Address: VIA L. FIBONACCI 9
Postal Code: 50131
Country: Italy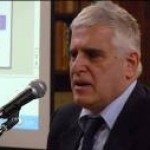 Antonio Quatraro has a degree in philosophy (Florence University), and a high level piano diploma (S. Cecilia Conservatorium Rome).
Antonio Quatraro has been teaching in special schools and in normal schools, as a resource teacher, and is involved in teacher training for the integration of visually impaired students.
In 2001 Antonio Quatraro was elected president of the Italian Union of the Visually Impaired Florence branch. He is also president of the Florence "Institute for Research, Training and Rehabilitation" (I.Ri.Fo.R., operating in the domain of visually impaired people. He has been involved for over 25 years in the domain of education of visually impaired people in school, as well as in research projects aimed at new job opportunities for the VI.
Since 2000 Antonio Quatraro has been involved in several European projects, as counsellor and as project coordinator (Contrapunctus - access to music for the visually impaired)– 2006-2009, "Citizens among Citizens" – 2008-2010).
Antonio Quatraro is active as counselor of the Tuscany Region for multi-handicapped blind persons, and gives lectures for some Italian universities (Leonardo Da Vinci – Chieti, Pegaso University – Salerno, Ferrara University).
He speaks English, French, German and understands Russian.
He is currently involved in two European projects aiming at promoting language learning and teaching for the visually impaired, namely:
1) ELLVIS – English Language Learning programme for Visually Impaired Students, coordinated by Centro Machiavelli within the LLP – Sub-program COMENIUS Multilateral projects. ELLVIS aims at testing a method developed in a previous European project (Allvip) designed for language learning for non-sighted students with the use of a joystick based on force-feedback and related interfaces. Project dates: from 1st October 2009 to 31st March 2011.
2) VET4VIP, Vocational English Teaching for Visually Impaired People, promoted by DAA Berlin within the LLP TRANSVERSAL PROGRAMME – Key Activity 2 (Languages),for which UICI is a partner. VET4VIP aims at the development and testing of methodology for teaching languages to visually impaired students in an integrated didactical and cultural context.
3) ALL4WELL – Accessible Language Learning for the Wellness Sector, promoted by UICI Firenze within the LLP – Sub-program L. DA VINCI TOI. Based on the results of the projects ELLVIS and VET4VIP, the ALL4WELL project provide a job-oriented English course for visually impaired masseurs and wellness professionals.