Inma Carpe
Institution: The Animation Workshop-VIA University College
Country: Denmark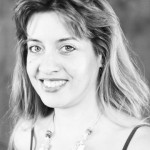 Inma Carpe is a visual development artist-animator-film maker teacher in VIA University College among other colleges in EU and schools in US.

Born In Spain, living and working abroad between Denmark and Los Angeles.

Experienced freelancer specialized in short formats and prep production. She split her time between classes, freelancing as an animator, working on EU educational projects and production assistant in film festivals such Hollyshorts, US, Prime Animation, or CinemaJove, Valencia-Spain.

Currently working and researching how Animation and visual literacy improve self-development and communication (beliefs-emotions-action) based on art productions experiences, connecting cognitive/social neurosciences with film making/ storytelling. A collaboration between the Animation Workshop in Denmark with The University Polytechnic of Valencia, Spain.

She's been in several international conferences in Europe and The United States, as well her short films have received a good welcome within the international circuit of film festivals.