Sławomir Czepielewski
Institution: Warsaw Academy of Computer Science, Management and Administration
Address: Meksykańska 6
Postal Code: 03-948
Country: Poland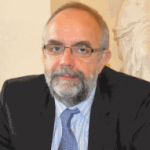 Sławomir Czepielewski is the Pro-rector responsible for development of international cooperation in Warsaw Academy of Computer Science Management and Administration.
He received his Ph.D. for innovative design algorithms of fibre optics. He is the pioneer of cable television and internet applications in Poland. He participated in many national and international projects with target to use new technologies to develop and improve educational activities.
He is the author of many publications about opportunities offered by new technologies to the educators. The successful application of new technologies requires changes of traditional approach to education.
Sławomir Czepielewski participated in many projects of this kind, some of them resulted in success others in failure, especially these failure ended projects were a good experience to share with others to avoid similar problems in the future.
He has been project manager in 7 projects funded by Lifelong Learning Programme.