Ana Cristina Lahuerta
Institution: University of Oviedo, Assistant Professor
Address: Tenderina 119, 5I
Postal Code: 33010
Country: Spain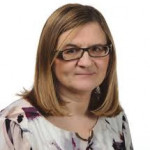 Dr Ana Cristina Lahuerta Martínez is professor within the Department of English, German, and French Philology at the University of Oviedo, Spain.
Ana Cristina graduated in English Philology from the University of Zaragoza in 1988. Since then, for the last 29 years, she has constantly been working as a lecturer, at higher education level.
Her research has focused on the field of Applied Linguistics, specifically on the area of Teaching and Learning English as a Foreign Language. She has published in Assessing Writing, English for Specific Purposes, Ibérica, Revista de Educación, Revista Española de Lingüística Aplicada, Porta Linguarum, and Language Learning Journal, among other relevant academic journals.
She has participated in different research projects and was one of the members of the Organising Committee of the I International Conference on Research in Multilingualism: Innovation and New Challenges held from 14th to 16th March 2018.
Ana Cristina was from 2012 to 2015 the coordinator of the international Master in Bilingual Teaching in Secondary Education from the University of Oviedo as well as one of the trainers.

Areas of expertise: EFL teaching and learning, assessment and evaluation, higher education, languages for specific purposes, bilingual education, reading in a foreign language, writing in a foreign language..