Telis Marin
Institution: Edilingua Edizioni
Country: Italy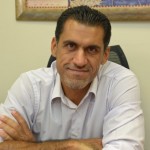 Telis Marin has a BA in Italian Philology and a Master ITALS in teaching Italian as foreign and second language from the University Ca' Foscari in Venice. He has been teaching Italian in several schools for many years.
In 1996, he founded Edizioni Edilingua, a publishing company specialized in the field of teaching Italian as a foreign language.
He has written several course books of Italian as second and foreign language, such as: Nuovo Progetto italiano 1, 2, 3 (Student's book), Progetto italiano Junior 1, 2, 3 (Student's book), La Prova orale 1 and 2, Primo Ascolto, Ascolto Medio, Ascolto Avanzato, Vocabolario Visuale. He is also co-creator of the video-courses of Nuovo Progetto italiano and Progetto italiano Junior.
In the last years he specialized in educational technologies by studying the latest trends. As a result, he created the educational multi-platform i-d-e-e.it. He is currently working on its new version.
He has held numerous workshops worldwide on teaching Italian.