Mark Kit
Institution: Language Interface Inc.
Address: 1200 Western Ave, apt. 1012
Postal Code: 98101
Country: United States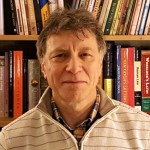 For more than 20 years Dr. Kit serves as a head of translation company Language Interface (USA) that ensures linguistic support for international projects and leads development works in the area of applied linguistics and information technologies. This R&D work is focused on dual-language text analysis and development of highly efficient dictionaries. He holds Doctoral degree in Technical Sciences and develops web-based solutions for telecommunications and translation industries.
As a NASA Mission Control Center Certified Interpreter supported all Space Shuttle missions to the Russian Mir Space Station, as well as the launch of the International Space Station at the Flight Controller Console in the Johnson Space Center (Houston, USA). He is the first interpreter in history of space missions who translated communications between crews of space vehicles. As a translator signed the first International Space Flight Safety Rules Document. Translated thousands pages of technical documents related to space exploration, telecommunications, electronics, automatic control systems, oil and gas technologies, philosophy, law and economics.
Author of 24 research papers on translation science and practice, cross-language communications management and development of advanced online dictionaries. Academic experience includes presenting workshops on cross-language communications for academics and professionals abroad.