Marina Avdonina
Institution: RUDN University (Peoples' Friendship University of Russia)nMSLU (Moscow State Linguistic University)
Address: Baikalskaya str., bld. 18/2, app.114
Postal Code: 107241
Country: Russian Federation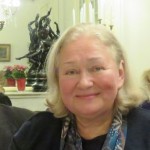 Associate Professor of the Department of Linguistics and Intercultural Communication of the Faculty by Correspondence of Moscow State Linguistic University. PhD in Psychology (Auto-evaluation and reflection of L2 students).
Scientific Interests: Translation and Terminology, Method of Project in Teaching Foreign Languages, Russian Language and Literature, Educative International Projects methodology, Psychology of learning.
Author of more than 160 scientific articles on the above topics and one monograph on the functioning of an ecological terminology system in Russian, French and English languages.
Also teaching ELS for Postgraduate Students in RUDN University (Ecological Faculty).