Elena Notina
Institution: RUDN University (Russia, Moscow)
Address: Moscow, Miklukho-Maklaya str. 6
Postal Code: 117198
Country: Russian Federation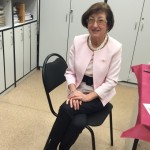 Elena A. NOTINA

Graduate of The Maurice Thorez Institute of Foreign Languages (since 1990 Moscow State Linguistic University), Ph.D. in Comparative-Historical Linguistics, Comparative-Typological Linguistics, and Translation Theory.
Professor, Head of the Department of Foreign Languages of RUDN University. Member of Translators Union of Russia (UTR), Asociación de Hispanistas de Rusia, International Society of Applied Psycholinguitics (ISAPL).
Elena has published over 180 scientific papers on a wide range of topics in Linguistics, Translation Theory, and Cross-cultural Communication. Her recent books include monograph "Translation and Scientific communication"(2013); manuscripts "Intertextual Component of Translator's Linguistic and Mental Personality in Scientific Communication" (2014); "Languages and Cognition in Scientific Communication: Mutual knowledge and Understanding within Translation" (2017), etc.
Her research focuses on Comparative Linguistics, Translation Theory and Practice, Linguistics, Cross-cultural Communication, Lexicology, Romance Languages.