Laura Tarabusi
Institution: New York University Florence/ University of Hull
Address: c/o Studio Quagliotti e Tanganelli, via F. Crispi 6
Postal Code: 50129
Country: Italy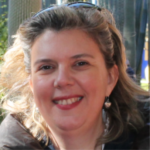 Laura Tarabusi is a professor of Italian at New York University in Florence (I) and is currently doing her PhD in Applied Linguistics at the University of Hull (UK), with a research project on Intercultural Communicative Competence and study abroad.

Laura received her degree in Foreign Languages and Literature from the University of Florence in 1990 and earned other post-graduate diplomas in Foreign Language Teaching. She was qualified as a teacher of English and German by the Italian Ministry of Education.

Laura has been teaching Italian in academic programs since 2000. She was the Executive Director of the Language Centre of the University of Florence from 1997 to 2000.

At New York University in Florence Laura was also in charge of the Community Service academic program for 12 years.

Laura has presented papers and published articles on Italian as a Second Language and Intercultural Communicative Competence.