Alina Crina Terinte
Institution: Middle School Number 1 Sanduleni
Address: Emil Racovita Street, Number 2, Apartment 5, First floor
Postal Code: 600272
Country: Romania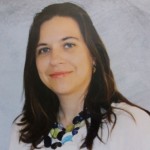 Alina Crina Terinte teaches English at the Middle School Number 1 Sănduleni, from Bacău county in Romania.

Crina graduated the Faculty of Letters of the University of Bacău in 2002. In 2005 she completed a master degree on Communication and Language Sciences at the same University with a dissertation on communication in public institutions.

Crina graduated the Faculty of Psychology and Educational Sciences of Transilvania University in Brașov in 2017.

Crina worked for a year (in 2013 - 2014) as an expert in education in the ''Improvement of school results of pupils in the middle school'' project funded by the European Commission.

Since 2014 she has been collaborating as a trainer for Appreciative Parenting and as an activity coordinator in a project funded by Norway Grants with the UNICEF – ''Social Inclusion through Integrated Services at the Community Level''.

She currently cooperates with UNICEF and the Institute for Educational Sciences in Bucharest within a series of pilot activities for teaching foreign languages in primary multi-grade classes.

Her main areas of interest are: differentiated instruction, project-work, pupils' motivation in language learning.