Aurélie Welcomme
Institution: Artevelde University College
Address: Hoogpoort 15
Postal Code: 9000
Country: Belgium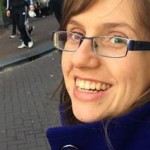 Aurélie Welcomme teaches Business French to students following the Business Management bachelor program at Artevelde University College. She teaches the course le français des affaires to 1st year bachelor students, le français des finances et assurances to 2nd year students specializing in Finance and Insurance, and le français du marketing to 3rd year Marketing students.

Aurélie Welcomme graduated as a Master in Romance languages from the University of Leuven in 2005. She combined her work as a teaching assistant at the faculty of Arts at the University of Leuven and the teacher trainer program, from which she graduated in 2007. She successfully defended her doctoral thesis, "La jonction interpropositionnelle à l'oral et à l'écrit en français langue étrangère" at the Vrije Universiteit Brussel in 2012. Since then, she has been teaching French to professional bachelor students attending Business Management programs.

Aurélie Welcomme has been one of the driving forces behind the implementation of a flipped classroom and blended learning approach in the 1st year course (le français des affaires) and has, as such, gained considerable experience in this domain. This course remodeling experience has also led to an extensive use of Edumatic, the platform used by Artevelde University College to digitize the exercises the students have to prepare before each class.

Aurélie Welcomme has also been involved in various research projects. At Artevelde University College, she has been working on various OIT-projects regarding new teaching approaches (2015-2016) and learning analytics (2016-2018).

Areas of expertise: business French, French as a foreign language, higher education, vocational training, e-learning, language learning.