Karine Chiknaverova
Institution: MGIMO-UniversitynEnglish Language Department chair Moscow
Address: Moscow, Mosrentgen 34, kv. 2
Postal Code: 108820
Country: Russian Federation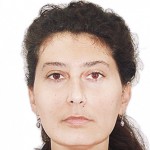 Karine G.Chiknaverova, Doctor of Pedagogy, MGIMO_University, Moscow, Russia

English Chair (legal translation, ESP).
Scientific interests: theory and methods of teaching English at university, English for specific purposes, learner autonomy and independence. She has authored more than 60 scientific articles and English coursebooks. She is a member of National Association of Applied Linguistics (NAAL), National Association for the Teaching of English (NATE), acts as a discussant (during the thesis presentation), scientific advisor, reports at conferences and workshops, reviews scientific articles, coursebooks, dissertations, is currently a reviewer for journals «Linguistics and Education» (Elsevier) and US-China Foreign Language and Sino-US English Teaching (David Publishing).