Magdalena Sedrlova
Institution: Faculty of Electrical Engineering and Communication, Brno University of Technology
Address: Technická 3058/10
Postal Code: 616 00
Country: Czech Republic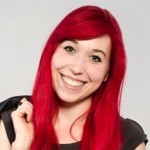 Magdalena Sedrlova is an English teacher at the Department of Foreign Languages at the Faculty of Electrical Engineering and Communication, Brno University of Technology, which provides specialized as well as general English courses to all students of three faculties.

Magdalena graduated in English language and literature from Masaryk University, Brno. For the past 3 years, she has been teaching English for specific purposes to undergraduates. She specializes in English for engineering and English for information technology.


Areas of expertise: English for specific purposes, higher education, school education, adult education, e-learning, language learning.