Marianna Memè
Institution: Associazione Culturale ASTERES
Address: Via degli abeti 12
Postal Code: 60019
Country: Italy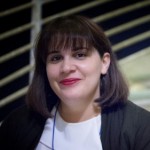 She graduated in Italian Literature and Art History from the Faculty of Literature and Philosophy at the University of Bologna in 2008. In 2011 she earned a Master in "Teaching Italian as a Foreign Language" from the Faculty of Foreign Modern Languages at University of Urbino.
From 2008 to 2015 she taught Italian as a second language to a wide range of learners: from Primary Schools to University, adults, migrants.
From 2012 she teaches Italian Literature and History in the Italian Public School.
As a founder member of the Cultural Association "ASTERES", she has extended experience in project designing and coordination, and contributed to the management of international mobility projects since 2013.
She is currently involved in the designing, management and implementation of several Erasmus+ projects.