Natalya Ivanova
Institution: Ivanovo State University of Chemistry and Technology
Address: 28 Devyatogo Yanvarya str., apt.17
Postal Code: 153002
Country: Russian Federation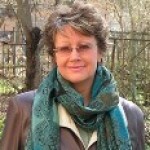 Professor Ivanova is the head of the research trend "Topical problems of intercultural communication (linguistic, sociolinguistic, psychological and literature study aspects)". Currently she is also Editor-in-Chief of the scholarly journal "Izvestia Vuzov. Seria 'Gumanitarbye nauki".
The field of her research activity includes sociolinguistics, phonetics and lexicography. N.K. Ivanova heads the research group consisting of academic staff and post-graduate students of ISUCT.
Under prof. Ivanova the following research problems are treated: written language ontology, sociolinguistic speech parameters, city intellectuals' speech culture, linguistic and psycholinguistic intercultural communication peculiarities.
Extensive investigation of phonetic characteristics of language and speech description in English lexicography of the XVIII-XX centuries (on the basis of British, American and Canadian dictionaries) has been carried out. Her main research interest include modern trends of pronunciation registration in pronouncing and in general purpose dictionaries have been established and principal achievements in lexicographic parameterization of pronunciation peculiarities of British and American English in the XX century have been generalized.
The major part of the works is devoted to the study of the English language phonetic features reflection in the dictionaries of various types and to speech variability regarding to sociolinguistic parameters.
Currently under Dr. Ivanova interdisciplinary researches in neology are conducted, and cognitive, social and philosophical aspects of the new words are considered.
N.K. Ivanova is an experienced lecturer and teachers ESP courses for master and post-graduate students. She is the author of numerous manuals for learning and teaching the English language and of some text-books and courses in phonetics and academic English.