Nadezhda Merkulova
Institution: Ivanovo State University of Chemistry and Technology
Address: 53 Arseniya str., apt.30
Postal Code: 153012
Country: Russian Federation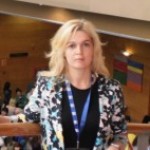 Nadezhda graduated from the Faculty of Romance and Germanic Philology of Ivanovo State University (Russia) in 2000. Since then, for the last 17 years, she has constantly been working in the field of English language mainly focusing on teaching it in higher education.
In 2015 she started her postgraduate studies at the department of foreign languages and linguistics at Ivanovo State University of Chemistry and Technology.
Nadezhda took part in different international conferences devoted to the modern problems of the English and Russian languages.
The field of her research activity includes sociolinguistics, international status of English language, world Englishes, bilingualism, multilingualism, ecolinguistics, lexicography.
Nadezhda is exploring the following research problems: development of English language and its varieties, context and environment influence on language, multilingualism as consequences of linguistic interaction.
Her main research interest includes modern trends of new words registration in pronouncing and in general purpose dictionaries that reflect language variability and interaction of social processes.
Nadezhda is an experienced lecturer and teaches ESP courses for bachelor, master and post-graduate students. She is the author of manuals for learning and teaching the English language.